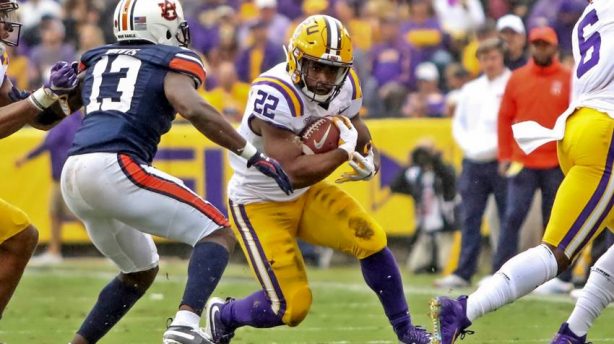 The big news from this past weekend might not be what I'm going to start with, but when the top team in the Eliteness Tracker defeats another top 10 opponent, I have to start there. LSU dispensed of a very good Auburn team on Saturday and added another notch to the most impressive resume in college football. This was perfect timing for them because Texas' loss to TCU knocked them out of the top 25 and, therefore, off LSU's resume. So, the addition of an ever better team in their place solidifies them as the top team in the Eliteness Tracker.
They were not the biggest winner of the week though. The biggest winner was a collective group of teams known as the Big 10 conference. With Michigan's thrashing of Notre Dame, the entire conference got a boost, not just Michigan. Penn State and Wisconsin had already defeated Michigan, so that gives them a boost upwards. Ohio State, who beat Wisconsin on Saturday, also gets a boost by having Wisconsin remain in the top 25. The Big 10 schedule will end with a bang as we get Penn State and Michigan vs. Ohio State in the last two weeks of the season. The door is cracked (just cracked, not wide) open for the Big 10 to have an opportunity to get 2 teams into the playoff.
The big loser of the week was, of course, Oklahoma who dropped their first game of the season against Kansas State. OU drops from #2 to #9 this week and loses their signature win, Texas. With OU and Texas losing, the strength of the Big 12 has been put into question. Fortunately for the Big 12, Kansas State debuts in the Eliteness Tracker with the win, and undefeated Baylor, by virtue of their win over Kansas State, moves up a spot to #6. Baylor still has to play both Texas and Oklahoma, while Kansas State still has Texas. Could you imagine a Kansas State vs. Baylor rematch for the Big 12 Championship Game? It's possible.
Also, I would be remiss if I didn't mention that a lot was made of Clemson's 1 point victory over UNC in September. I guess other teams didn't get the memo that, anybody can be beaten on any given Saturday. Every week since, we seem to get a major upset of a potential Natty contender. Speaking of Clemson, if you watched them play Boston College on Saturday, you saw Trevor Lawrence play QB "by the book" for the first time all season. He took what the defense gave him for a change and we saw a first half that netted a nice and easy 38 points, complete with 20 first downs. If he does this from now on, the offense will be far more efficient and it will open up better opportunities on the deep balls when they decide to take a shot.
Week 10 is not the strongest schedule, but we have one massive matchup. The SEC East is on the line in the World's Largest Cocktail Party when Georgia and Florida faceoff in Jacksonville.
Week 10 Schedule
Rankings below reflect the Eliteness Tracker.
#15 Michigan at Maryland, ABC, 12:00 (Upset Alert)
Virginia Tech @ Notre Dame, NBC, 2:30 (Upset Alert)
#7 Florida vs. #8 Georgia, 3:30, CBS
Utah @ Washington, 4:00, FOX
SMU (8-0) @ Memphis (7-1), 7:30, ABC
#10 Oregon @ USC, 8:00, FOX